An umeboshi plum a day keeps away 100 illnesses. For centuries, these plums are part of the traditional diet of Japanese people. Here, we look at the many different ways you can enjoy umeboshi plums in your everyday meals.
What are Umeboshi Plums?
These salty pickled plums are made from the ume fruit that is a cross between an apricot and plum. Young, sour plums are picked and preserved with shiso or perilla leaves to give the plums their distinctive reddish color.
Umeboshi plum is highly alkaline. Hence, it is dubbed as the "king of alkaline food."
Today, many younger Japanese eat fewer of these salty, sour, and fruity plums than their older generation.
Nonetheless, those familiar with the healing benefits of umeboshi plums continue to enjoy these traditional treats.
How to Enjoy Umeboshi Plums
You can enjoy umeboshi plums as a condiment, drink, garnish, and food in your daily meals.
Here are 9 ways to enjoy umeboshi plums and a bonus reference to a strong yang macrobiotic dish.
1. Umeboshi Drink
This is a no-brainer and my favorite way to enjoy umeboshi plums. It's also the fastest.
Simply take an umeboshi plum. Break apart the plum flesh and place everything in a teacup.
Pour hot water over the plum. Sip the ume tea like the way you drink regular tea. You can have it hot, warm, or chilled.
Then refill with hot water and let the ume plum steep in the hot water for 10 to 15 minutes. You can repeat this process the third time and then eat the plum flesh.
But do not throw out the pits. Save them for the bonus umeboshi recipe. Put all the pits in a little jar and store in the refrigerator.
2. Umeboshi with Brown Rice
The most basic way to enjoy umeboshi plums is eat one plum with plain rice. My preference is with hot pressure-cooked brown rice.
Umeboshi with brown rice is my go-to choice whenever I feel under the weather. Or when I have been eating too much processed, rich, and greasy foods. This usually happened during festive seasons like Christmas and New Year, and after wedding celebrations, or parties.
The plain taste of soft brown rice balances the saltiness and acidity or sourness of the umeboshi. The salty tang and mouth-puckering sourness of the umeboshi makes it a delight to eat just plain rice after all those rich foods.
Those recovering from illness or recuperating from a surgery can eat the plum with brown rice or millet porridge.
3. Umeboshi Plum Rice Balls
Known as umeboshi onigiri in Japanese, these rice balls are easy to make. It is my favorite way to pack brown rice for outings or when you are out and about all day.
What you need
Pressure-cooked brown rice
Umeboshi plums or paste
Nori seaweed sheets (cut into quarters)
Bancha tea or water
Instructions
Cut nori seaweeds into four quarters to make small to medium-sized rice balls.
Put a handful of rice on the quartered nori seaweed.
Place a few pieces of umeboshi plum flesh on the rice. Or use a tiny dollop of umeboshi paste.
Cover umeboshi with rice and wrap seaweed around rice.
Then place another seaweed piece to fully cover the rice ball.
Wet the edges of the seaweed slightly with tea or water to help wrap the rice neatly into a ball. Now, your umeboshi onigiri looks like a deluxe black detox bath bomb.
Wrapped this way, your umeboshi plum rice ball will keep fresh even on hot summer days.
Use tea instead of water to help keep the rice balls longer than a day without refrigeration.
4. Ochazuke
Chazuke or ochazuke is an all-in-one dish. "Ocha" in Japanese refers to tea and "Zuke" means submerge.
A light yet comforting food, ochazuke is another simple way to enjoy umeboshi plums.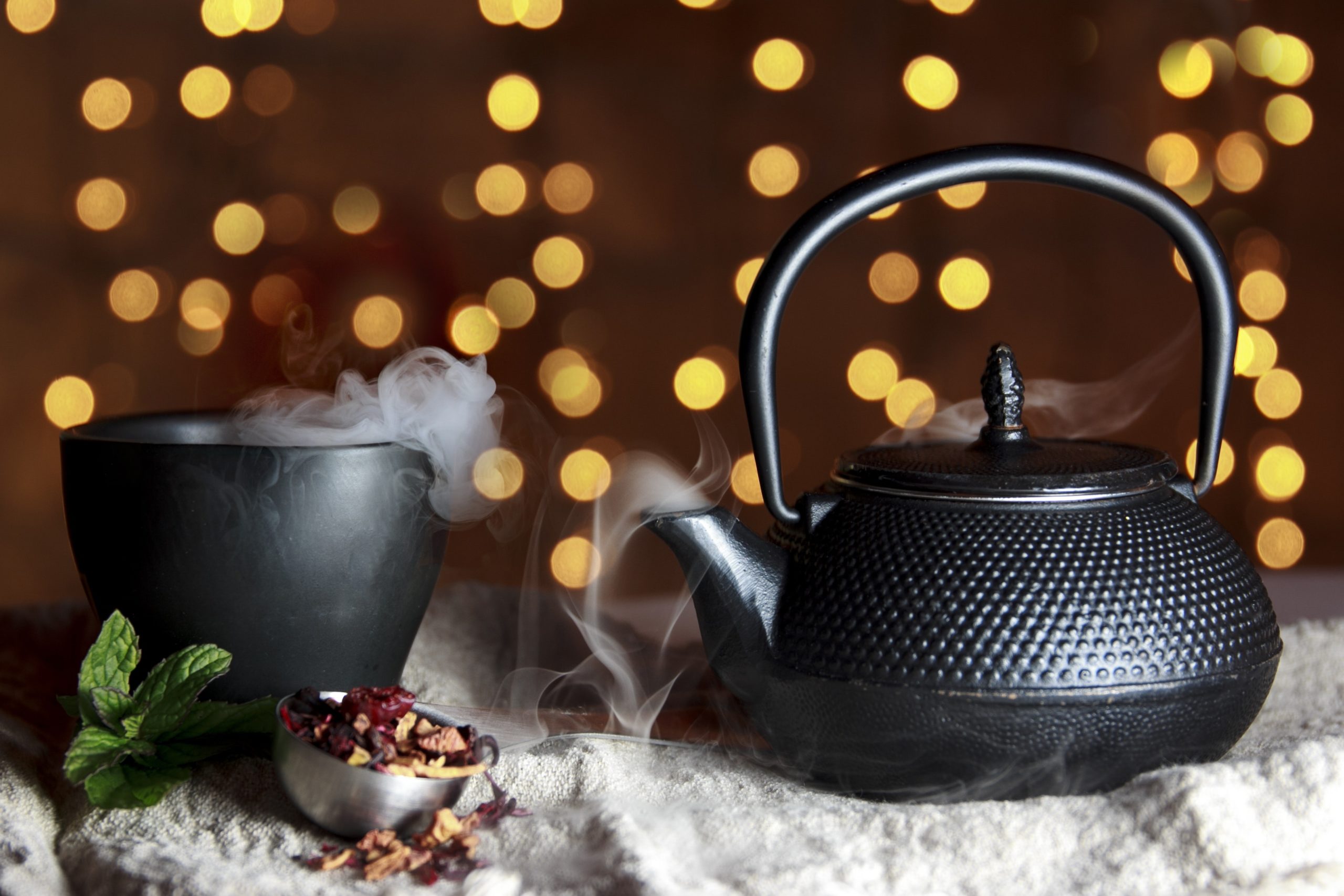 Get a bowl of cooked brown rice.
Top it with dashi powder (optional), thin nori seaweed strips, toasted sesame seeds, and one pitted umeboshi plum.
Then pour hot tea to partially submerge the ingredients.
I choose genmai cha for its appetizing roasted aroma. You can use regular green tea if you don't have genmai cha.
5. Enjoy Umeboshi Plums as Topping for Noodles
Did you know that umeboshi plums go well with different noodles? You can enjoy umeboshi plums as a topping for somen, udon, or ramen.
Simply put a pitted umeboshi plum on top of your favorite steaming bowl of noodles.
My favorite is ramen, which is akin to Chinese pulled noodles. Ramen has a springier, stronger texture than regular spaghetti. It has a distinct savory taste from kansui or lye water.
Lye water is an alkaline ingredient that is added to ramen dough. As kansui is not readily available to home cooks, you can substitute it with baking soda.
The tip for making homemade ramen is to add about ½ tablespoon of baking soda to one quart of water that you use for cooking regular pasta noodles.
6. Miso soup with Umeboshi Plum
You can't skip this all-time favorite, if you plan to enjoy umeboshi plums in a variety of ways.
Tofu wakame miso soup is one of the most basic combinations for miso soup.
You will need five ingredients: white miso, tofu, wakame seaweed, a pitted umeboshi plum, and chopped green onions.
Bring one cup of water to a boil. Add seaweed and tofu.
Use some broth to mix miso into a paste and add it to the soup. Do not boil soup after adding the miso.
Serve miso soup in a bowl, garnished with green onions and finely chopped umeboshi plum.
For variations, you can add dashi powder to the soup. Or use homemade kombu seaweed dashi stock.
And if you prefer, sprinkle some bonito flakes in the soup.
7. Enjoy Umeboshi Plums with Cucumber
A refreshing way to enjoy umeboshi plums is to pair it with fresh cucumbers.
This is also an easy, quick dish to prepare. It uses only three ingredients—a cucumber, a pitted umeboshi plum, and a sprinkle of toasted white sesame seeds.
You can make the dish in about 10 minutes, if you have ready-made partly crushed toasted sesame seeds.
First, hit the cucumber to partially crush the flesh and the outer skin of the vegetable. Then cut cucumber into bite sizes.
Next, chop the pitted the umeboshi plum into a paste.
In a serving dish, mix umeboshi with chopped cucumber pieces and sprinkle white sesame seed on the food.
To enjoy umeboshi plums with cucumbers, serve it with hot pressured-cooked brown rice!
8. Enjoy Umeboshi Plums with Chilled Tofu
This tofu dish, also known as hiyayakko in Japanese, is another delicious way to enjoy umeboshi plums.
Like the cucumber dish, traditionally, this dish calls for bonito flakes. Forgo the bonito flakes to make a vegan variation.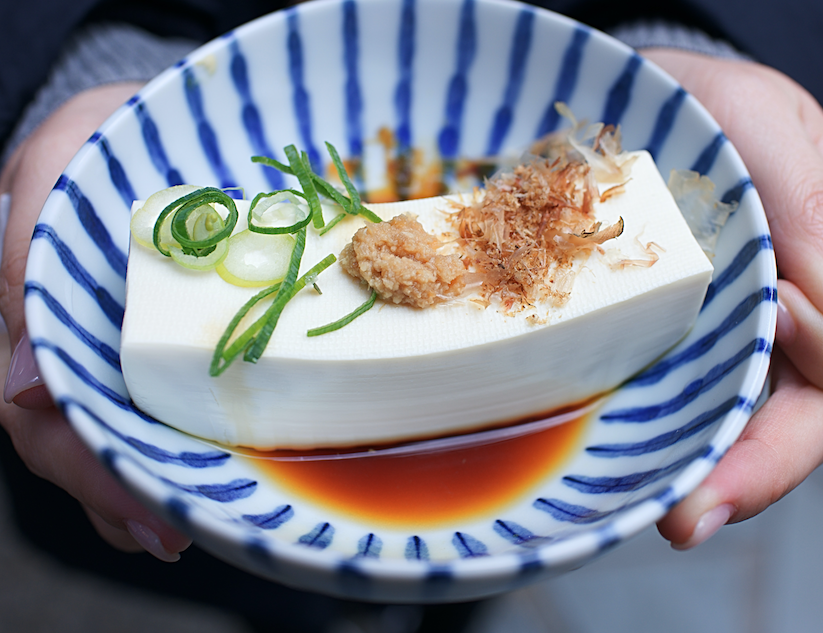 The main ingredient is an 8-ounce block of silken tofu.
Topping ingredients include a pitted, finely chopped umeboshi plum, green onions or shiso leaves, and toasted white sesame seeds.
There's no added oil, apart from the natural oils from the toasted sesame seeds. Simply pour some diluted soya sauce or tamari sauce over the dish.
To balance the yin-yang energies of the ingredients, I'd add some grated organic ginger to the dish.
9. Daikon Radish Salad with Umeboshi Plums
The tart and salty taste of umeboshi plums is a perfect ingredient in a salad dressing for daikon radish, wakame seaweed, and fresh cucumber.
This dish takes about 15-20 minutes to prepare. It is vegan and gluten-free.
What you need for salad dressing
1 Tablespoon organic olive oil
½ Tablespoon organic apple cider vinegar
½ teaspoon organic sugar
¼ teaspoon soya sauce
1 pitted and chopped umeboshi plum
Mix all of the above ingredients in a small bowl and set it aside.
Soak wakame sea vegetable. Julienne or grate the daikon radish and cut cucumber into thin half-moon slices.
Place all vegetables in a serving bowl and pour the salad dressing over them. Enjoy!
Bonus Recipe
In case you wonder what to do with the pits removed from umeboshi plums in other recipes. The pits are too precious to throw away.
So, let's wrap up with this strong yang dish of burdock root simmered with umeboshi pits.
If you plan to detox and strengthen your body at the same time, this is an excellent dish. It is also a staple of macrobiotic cooking.
All you need are three ingredients—burdock root (or gobo in Japanese), umeboshi pits, and kombu sea vegetable to make the dashi stock.
If you don't have enough pits, you also add 1 to 2 whole umeboshi plums, depending on how much burdock root you are cooking.
Where to Buy Umeboshi Plums?
I have used Eden, Mitoku, and Muso brands organic umeboshi plums.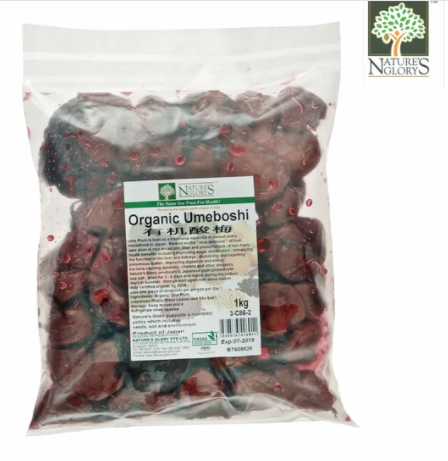 You can buy umeboshi plums from whole foods and other health stores. Alternatively, you can shop online from Amazon or from their websites. But the plums usually come in small packets.
To date, the only place I know that sells organic umeboshi plums in one-kilogram packets is Nature's Glory in Singapore.
For nearly decades, Nature's Glory is my only go-to place to get my umeboshi plums in bulk size. Whenever I visited Asia, I'd make it a point to stop over at the island city for these plums!
You can also shop for the plums in bulk from their online store. It is available for international shipping. For more information, send them an email.
Note
Umeboshi plums are very salty and extremely yang (or warming). So, it is best to eat only one plum a day, depending on your condition.
If you have a yin condition and don't eat much yang foods like meats, you may eat two small plums a day. However, you should do this only for a few days.
The rule of thumb is to eat in moderation to maintain the balance of yin and yang energies. Eating too many umeboshi plums per day may tip the scale and make you too yang.
Feel Inspired and Enthused?
Revisit to check out the full recipes for umeboshi plums that I will be posting 1 or 2 each week.
Cucumber with Umeboshi
Chilled Tofu with Umeboshi
Miso Soup with Umeboshi
Ume Ochazuke
Burdock Root with Umeboshi Plum Pits
Let me know if you have tried any of the 9 ways to enjoy umeboshi plums.
Note: All information on this site is for informational purposes only and cannot be construed as medical advice. These natural food remedies are for maintaining your health and wellness. They are not meant to replace your medical treatment. If you have questions about your health or medical conditions, you should always seek medical advice.