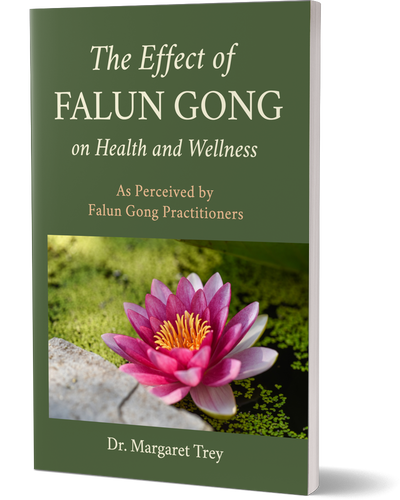 Discover the Science Behind Falun Gong
The Effect of Falun Gong on Health and Wellness unveils the author's research of the impact of this popular and tranquil practice. While the study was conducted 10 years ago, the results and implications for human health are even more relevant today. Dr. Trey felt compelled to publish her research now, as people are seeking ways to improve their health and boost immune system in response to the global crisis triggered by the Wuhan coronavirus.
READ NOW
"Dr. Trey's latest book could not be timelier, ..."
~ Dr. Lucia Dunn, Professor of Economics, Ohio State University
ABSTRACT:
The promotion of mind-body, health-wellness practices demand ongoing consideration by health professionals as more individuals are seeking alternative therapies and Eastern spiritual practices for their health and wellness needs.
Falun Gong presents as one such mind-body Eastern meditative spiritual cultivation practice that is gaining worldwide popularity, although knowledge of its effects, potential use in counseling and health-wellness promotion is still lacking.
This research provides a world-wide demographic profile (excluding mainland China) of Falun Gong practitioners.
It presents the health-wellness effects of Falun Gong as perceived by Falun Gong practitioners, compared with individuals who do not practice Falun Gong.
Findings show that people who practice Falun Gong have more positive and optimistic perceptions of their health. They report a better health-wellness status than those who do not practice Falun Gong.
Overall, findings from the doctoral study support Falun Gong as a beneficial mind-body, health-wellness spiritual cultivation practice.
What Reviewers are Saying
Dr. Trey's research admirably displays her mastery of the tools of her academic trade. She has methodically researched her topic, negotiated the ethics protocol, solicited, and managed an enormous amount of data. Above all, her ground-breaking study will help readers to realize that practicing Falun Gong reaps tremendous benefits.

This is a timely publication. This research is the first empirical study with a diverse sample drawn from outside China. The self-reports from respondents suggest Falun Gong is a promising journey to health for those who embrace the practice. Readers will glean interesting insights from this book.

This is fantastic! Reconnecting with ancient wisdom and revitalizing wellness and health through mind-body practice is the best gift of awareness for everyone. Dr. Trey's book is very much needed in our world today. Embracing a valued meditative practice is imperative to self-worth and healing. Her research findings reveal significant support that Falun Gong can enhance, heal, restore, revive, and provide varied benefits. The modern lifestyle requires essential wellness practices and one of them is the mindfulness practice of Falun Gong. An authentic work and a must-read.

Dr. Trey has put together her experience as a researcher and practitioner of Falun Gong with the scientific description of a researcher and the authentic prescription of a practitioner. She efficaciously conveys to readers the effectiveness, simplicity, and importance of Falun Gong, not only on health and wellness but also on all dimensions of daily life.

If you are a health professional seeking ways to help concerned patients see that better health, wellness, and improved immunity can be in their own hands, without having to step outside their doors, this book will be extremely helpful. I highly recommend it. Falun Gong is the way to go for better health and wellness.