Presented at the 8th International Conference on Religion and Spirituality in Society, April 17-18, 2018, University of California, Berkeley, USA.
ABSTRACT:
A practice for health, wellness, and beyond, Falun Gong is a spiritual cultivation discipline. The practice has elements from Buddhist and Taoist teachings, for overall mind-body and spiritual improvement. This session illustrates impact of Falun Gong supported by evidence-based knowledge.
For millennia, meditative religious/spiritual disciplines have existed in various Eastern countries. Since ancient times, spiritual masters secretly passed down their teachings to a few selected disciples—often in reclusive or monastic settings.
Today, people seek these ancient practices for a variety of reasons. Through diligent practice, one not only attains spiritual transcendence but also health, wellness, and healing.
Practice for Health, Wellness
Falun Gong—an ancient Chinese discipline suitable for modern times—is one such practice that is making its presence felt. Due to its beneficial effects, Falun Gong is a practice for health, wellness, and beyond.
Today, it is one of the most popular Chinese mind-body meditative practices. Nearly 100 million people in over 70 countries practice Falun Gong. Thus, understanding Falun Gong and its impact on healing and therapy is pertinent in our progressively interconnected world.
Various researchers observed a positive link between religion/spirituality and health. As such many support the integration of religion/spiritual meditative disciplines with counseling, social work, and medical practice.
The focus of this paper is to examine the effects of Falun Gong—its relevance in modern times.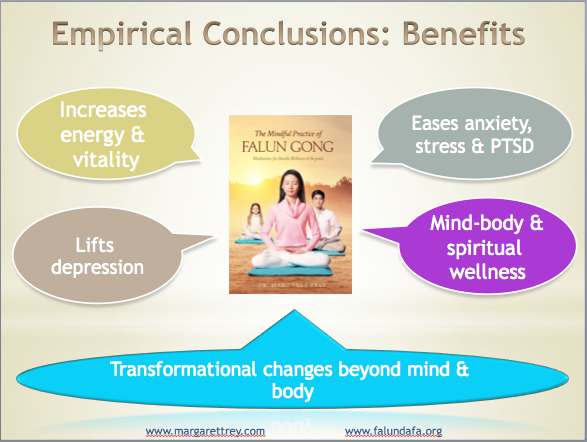 Using story examples from the author's Hearts Uplifted research project, this presentation aims to provide insight into Falun Gong and its benefits, by looking at the practice through the eyes of individuals who practice it.
The presentation does not seek to proselytize religious ideas but proposes to explore Falun Gong for healing and therapy.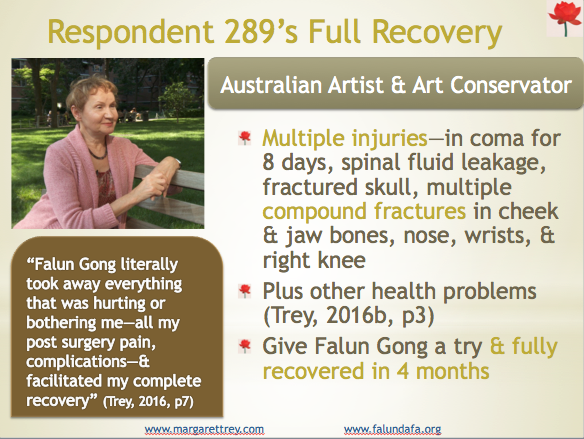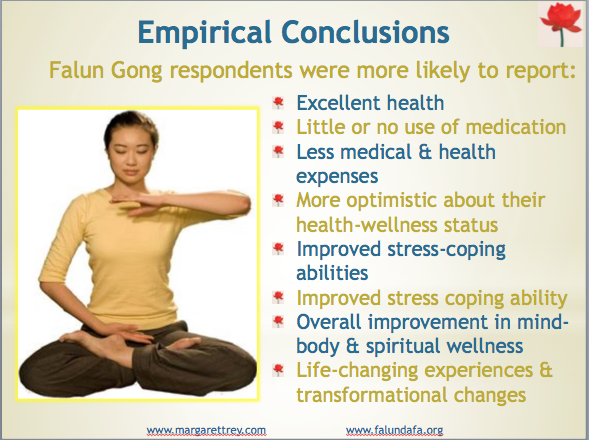 Thank you for visiting my site. If you wish to have a pdf copy of the PPT notes for this conference presentation and/or any of my other presentations, please email me at [email protected].